I'm a director. I have been for more than 25 years. I did almost everything there is in television, but since 2002 I only shoot fiction. Short films, a feature film and of course the television series or soap: THUIS (AT HOME)
The Soap we shoot is N° 1 in Flanders (that's in Belgium/Europe). We have a consistent 45% marketshare and the final episodes have touched the 50%. So 1 in 2 viewers are watching our soap daily! It has reached hype-status. We must be doing something right.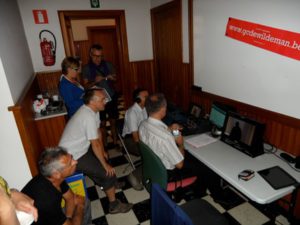 In the next lessons  I'll explain how you can make a television serie or soap or on a smaller scale a web series.  I'll tell you everything I know. No secrets. (By the way, click right and left. there is more here than you might think. )
As we move on, the details will emerge from the fog of this television series.
We have an extensive crew and cast. Well in our country that is… We'll meet them all over the next weeks and months.
Join me as we set sail and have fun making a soap bubble or two.
"Thuis" is a daily soap on VRT television. We shoot in studio in Leuven (Belgium) or on location. Wherever the story and the location hunters will send us.  It started rather small but now we shoot 220 episodes per year. That's one every day from september to July. We have a break over Christmas and one over Easter. And over summer we break shooting for 1 month. Post production, set building, writing and preparations for shooting do continue. 
"Thuis" reaches on average 45% of market share and is the number one show.  Bringing the stories to life is a daily adventure. 
This is the story of parts 3256 to 3261. I will be on set starting tomorrow until the end of the month of August. These episodes will be used to explain what I'm doing. So once we have done that this is a full course in soap shooting. While telling the story on a day by day basis, I'll also try to explain how to shoot. Don't try this at home…