Everything starts with screenplays. 
Well not exactly. Here everything starts with story lines which are created for every character or group of characters. Next these story lines are split up in synopsis for each week, next is a synopsis for each day until these get fleshed out with action and dialogue (mainly dialogue) as production edit of the screenplays.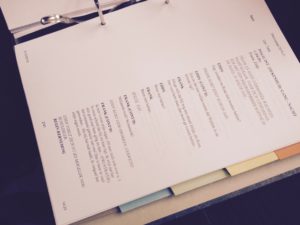 The production edit gets a limited distribution for analysis by director, location hunter, costume & make-up (looking for specials) and the creative director for introduction of new characters, sets and overall flow of important elements or changes. 
We will all be looking for difficulties, anomalies, new locations, sets and characters. So we can anticipate these for production and shooting. These are discussed in the DESIGN MEETING.
All screenplays have an
initial timing estimate
done by the writers.
This is checked by the assistant director and the director. When necessary episode can be shortened or made longer as we have strict guidelines for the length of each episode: 23 minutes plus titles and end credits. Sometimes this gets out of hand.
The 10 screenplays (3316-3325) have now been timed by the assistant-director and director: a problem has occurred. In total the length of the screenplays exceeds the maximum duration with about 25%. So an urgent edit will be necessary. 
In general I don't mind about the length of the screenplays as I consider any variation in length rather as a variation in speed. A screenplay that seems short will become a slow paced story, one that has a few more pages will be turned in a rather eventful speedy story.
While rereading the screenplays (I have now read them three times in ten days), I start an early breakdown.  A very simple procedure in SCREENWRITER 2000.  Just read in tagging mode and add every prop, character, vehicle etcetera from a drop down list and presto I have a list of every one and everything needed for the next design & BREAKDOWN MEETING.