In the days leading up to the breakdown meeting we go location hunting. But first location hunters go through databases and pictures and call in outside help trying to find something that is suitable.
And during one day we all go location hunting.
This is both a technical and an artistic visit. I try to find all suitable angles for telling the story and do so by taking pictures, video and measuring up the place.We regularly shoot on location. For every ten days in studio we shoot five days on location. Some locations we use are fixed and we go there on a regular basis. These are all existing place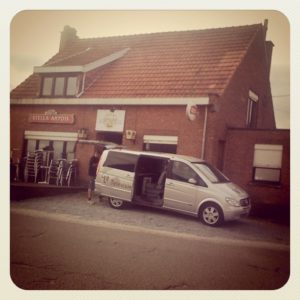 s we use for the exteriors of our studio sets.
But in almost every episode we go on locations we have never seen before. Either for some particular action or for background or story development of one of the characters.
This will enable me to draw ground plans and later on draw blocking & staging setups. 
Technicians will look for solutions for technical problems for light. Sound is one of the biggest problem.  But also electricity, catering, transportation, make up & costume need to be organized.
Sometimes I will make a 3D view after the location hunting in FRAMEFORGE . This will make it easier to create storyboards. Storyboards come in handy if we have to do a lot of shots with many actors and don't want to get in trouble in the editing with missing angles, dialogue, reactions or inserts. 
TIP: 
When on a set you get to see everything that you need sooner or later. Actors will say and do things during rehearsals, during the shoot of one angle or in the reverse. But after a while without good logging, you can't remember if you actually shot the image in the size you want/need. So I regularly talk to actors insisting that I still want a close-up or insert or particular part of a dialogue on them. And I will ask them to ask me for it by a certain time of day – before lunch, during coffee break etc.- if it hasn't been shot. So I will have many walking memories on set thinking about their shot. I'd rather have them ask me once too many than end up in editing without the shot !