THUIS is a daily soap. What does it mean? Let us make a breakdown of its many levels and parts. 
We shoot 200 episodes per year, our season starts at the end of summer and ends at the end of May. In 2012-2013 we are in season 18 ! 
Each episode is 25 minutes and has between 18 and 22 scenes. There are a few exceptions: a season ends with a special which is 50 minutes. 
So here is the raw breakdown of what we are up to.
10 episodes x 25 minutes x 20 scenes. Each scene is somewhere between 15 seconds and up to 3 minutes. 
At any moment in the production 6 directors are somewhere in the process of creating 10 episodes.
What do we do with all of this?
1 is reading
1 is in breakdown meetings
1 is in rehearsals & preparing 
1 is shooting on location
1 is shooting in studio
1 is editing location and studio
1 post-production director takes care of sound breakdown
All this is taking place in synchronicity. Every day an episode is prepared, shot, edited and out of post-production. And as the directors rotate the crew & cast just continue shooting shots, scenes, episodes.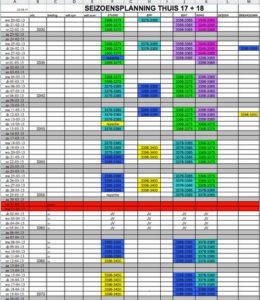 Here is an overview of part of our production schedule. 
I'm Director light blue. 
On the left are the dates, next is when the episode goes out. Some internal info and then we have STUDIO, EFP (location), EDIT, SONO, then dates for DESIGN & BREAKDOWN MEETINGS. As you can see STUDIO was regularly interrupted for REHEARSAL. As we are now shooting 220 episodes, rehearsal days went out of the window. We rehearse when and if we can…