Tomorrow it's day 1 of shooting after my summer break.  I'll be up at 6am, get a breakfast and coffee and then catch a train and Walter, my assistant director will be waiting at the station and drive me to Bob's Café (aka. "Café De Sortie")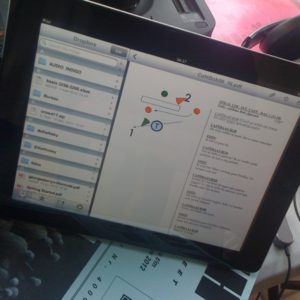 At 9 am I'll have my first shot of the day. Here's what we'll do in the first scene. I like to keep things simple. Real simple. This is the situation. Eddy (orange circle) walks into Bob's café. He'll go to the bar, Bob (green circle) is behind the bar. They have a chat.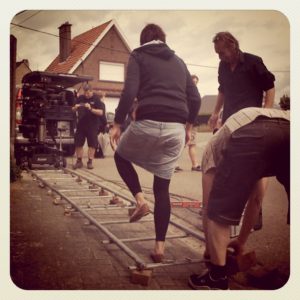 I'll have a travel (1), following Eddy as he goes to the bar and the shot ends in an over the shoulder of Eddy on Bob. Then I'll do a reverse on Eddy (2). As the second scene is a continuation of the first. I'll first do the shots from one for both scenes and only then change to do the reverse.
I 'll win about 20 minutes and have some time to talk to the actors and crew about the next scenes, getting the actors into the story and I'll get some pictures for you.