Hi, and welcome director at Movietrix TV. I will showcase some of the things I did as a director. I shot a few short films, a feature film, a few detective episodes and many, many soap episodes.
I'll show you how we do the soap. This might be a course of some kind as nowhere can you learn how to shoot a soap. most people start somewhere down the line and grow into it. But a director has to be there from day one. Directing a soap is a group effort. There are many things that can go wrong. But there are just as many things that can go right.
In the next pages you can find a lot of aspects about shooting a soap. So good luck!
If you have any requests or questions, don't hesitate to use the comments section. If I can answer your questions, I will.
You have decided to become a soap director, now what?
You need to learn the essentials of directing a soap. But where can you do that? Nowhere, it is that simple. There is no academy where you can learn to direct a soap. It seems you have to know it from day one. This means, you better learn fast or die young.
Here is a course which shows you all the essentials of shooting a soap or anything there is in episodes. It isn't so difficult to grasp once you know what you need to know to shoot a short film, except with a soap it is a machine that never ends. It keeps on going and going. Day in and day out. And some nights.
So you really want to know how to shoot that soap? Then follow the list and little by little you'll know what it takes to be a soap director.
Shooting a soap opera is to deliver a message on time and in budget. The message is the screenplay, you have a day to shoot an episode. So you better come prepared.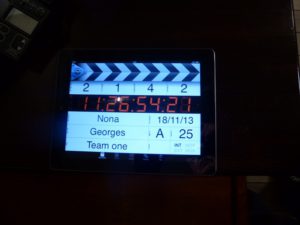 In the next 25 or so parts I'll tell you one step at the time what we do to shoot a successful soap. It is not that easy. There are many things that can go wrong. In fact everything can go wrong as every day is another way of telling a story in a different location, with different settings and other actors, technicians. You need to know most anything there is to know about film making and television to make sure you have everything under control.
You are involved in every aspect of film and television making, you have to make decions on every level but at the same time keep a consistent look and feel with what your collegeas are doing on set. Soap directing is a group effort. A lot of individuals pulling a rope in the same direction, day in and day out.
If you think this is something for you, here are a few things you should know.